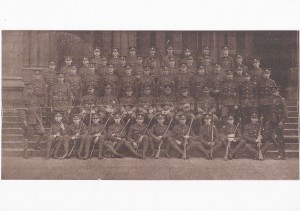 At the Centre for Hidden Histories we take a particular interest in the global aspect of the First World War, the way it was experienced by people from distant places and how its effects continue to be felt by people in lands beyond British shores. Nevertheless, we are still concerned with matters much closer to home.
The University in Wartime Project takes its starting point right here on the University of Nottingham campus. Like many institutions with roots more than a century old, we have a plaque dedicated to those men with a connection to the place and who lost their lives in the war. The project aims to investigate the lives of these men and, in doing so, open a lens onto the Nottingham of a hundred years ago and shed some light on a university in wartime.
The Plaque
There are 224 names on the memorial plaque, which currently sits outside the Vice Chancellor's office in the Trent Building on University Park.
The men represented there were mostly, though not all, formerly members of the Nottingham Officer Training Corps, which had been founded in April 1909 following a petition signed by 27 students of what was then called University College Nottingham.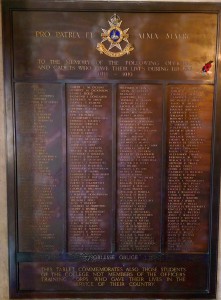 The Corps, which was led in its early years by Captain Samuel Trotman, offered instruction in field operations, musketry, annual training at camp, lessons in tactics, map reading and military engineering. Student Cadets who passed an examination were entitled to a commission in the Reserves, or Territorial Force. It was intended to create a body of educated young men who, in addition to their university degrees, possessed the skills and temperament required for war.
The Project
The core of the project is investigating the lives of the men recorded on the memorial plaque. From there, it will expand to explore some of the larger themes that their lives (and deaths) touched upon.
We start with the dead because, to put it bluntly, they usually left stronger records. The culture of memorialisation means that the names of those who died in the war are literally etched in stone.
However, all we have at the beginning is that list of names. Our project will take those names and add more detail.
We begin by finding the cold information of dates of birth and death, rank, regiment, decorations and family information, which we will add to the Imperial War Museum's Lives of the First World War site.
From there, we will explore these lives to find out more about Nottingham and university life a century ago. We expect to be surprised not just by how different life was then but also by how similar it was.
We will present selected lives of the men and their families on this site and, in partnership with Nottingham Trent University, we will make two short films that capture the research process and illustrate our findings.
We are very keen to hear from the families of these men and anybody else who may have a connection to University College Nottingham. If you would like to find out more, please contact michael.noble@nottingham.ac.uk