The Centre for Hidden Histories and W.Winter Heritage Trust  will be hosting a free, one day symposium to explore the story of German Prisoners of War at Donington Hall and Kegworth Camps 1915-1919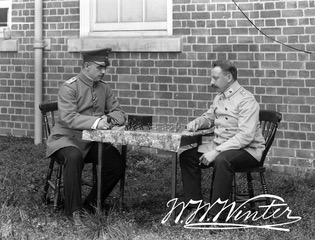 Wednesday 23rd October 2019 
09:30-16:00
Sutton Bonington Campus, University of Nottingham 
The symposium will present research findings inspired by a unique collection of glass plate negatives and prints from the collection of W W Winter Ltd., Photographers of Derby. The images show some of the high-profile officer prisoners, alleged in Parliament to enjoy 'champagne lifestyles'.
Research has revealed the politics behind their internment, as well as new information about the men themselves, the camps and their organisation and the attempts made by some of the prisoners to escape.
Speakers will include Professor Panikos Panayi (De Montfort University) and Professor John Beckett (University of Nottingham). Papers will be given on topics ranging from the effect of Spanish 'flu on the prisoners to the propaganda battle over the public image of the camps and the stigma of surrender.
To register, please visit the dedicated Eventbrite page
Supported by The National Lottery Heritage Fund.