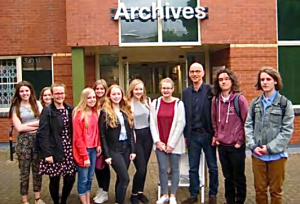 Continuing the Centre for Hidden Histories engagement with World War One history in UK schools, Dr Ben Braber has run a number of sessions for students from the Trent Academies Group (Rushcliffe School, The Farnborough Academy and Arnold Hill Academy).  In July, 30 year nine students and 10 year ten and eleven students attended history workshops led by Ben and conducted in partnership with Nottingham Central Library and Nottinghamshire Archives.  The workshops were convened to analyse primary sources associated with Ben's Centre for Hidden Histories project, German immigrants in Nottingham during the First World War.
Click on the link to read a student account of the project in Rushcliffe School's Newsletter.
For further information, see Dr Ben Braber's website.