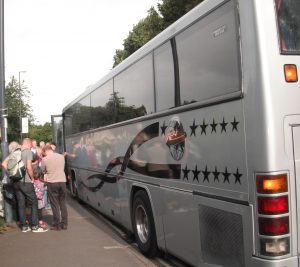 Alongside the Centre for Hidden Histories Research Development Fund which has enabled academic/community partner projects (click here to see a full report), the Centre's Community Challenge Fund has supported eighteen small community-led activities which have investigated 'hidden' World War One histories. The Community Challenge Fund has enabled groups to access research resources, technical facilities and/or expertise in order to develop new projects.  It has also assisted groups with organising public events or visits in support of their research. A recent Community Challenge Fund activity was, Six Streets History Derby's visit to the National Railway Museum in York (3 September 2016).
Six Streets History Derby have been funded by the Heritage Lottery Fund (2014-2016) to explore the impact of the First World War on a small urban area in Derby City. Participants have been researching the 'hidden' local history of men who served in the Army, RAF and Navy as well as women who volunteered to work as part of the Joint War Committee, many of whom served at the local Auxiliary Hospital.  During their research, participants discovered that many people in this area were employed by Midland Railway, while the London and North Western Railway (LNWR) also had a major base in Derby.  As part of their research, Six Streets History Derby discovered that Midland Railway had built 9 ambulance trains. In order to find out more about the significance of these trains, the group applied to the Centre for Hidden Histories Community Challenge Fund for an award to enable a coach trip to the the National Railway Museum in York. This was to see the museum's current First World War exhibition on Ambulance trains.  The exhibition features a reconstruction of an Ambulance train, including an operating theatre. It also includes testimony from nurses who served on these trains and patients who recovered thanks to the medical assistance offered by staff on these vehicles.
Feedback from participants included:
"Thanks for organising such a great day out, we all really enjoyed it… I had no idea before about the different nationalities of all the soldiers/prisoners on the trains together." (Representative of a family of two adults and three children)
"The link with our local area meant we could appreciate more how the war had an impact on the railway industry in Derby. The audio accounts of the soldier's stories were also interesting to listen to and the film footage of the American soldiers on stretchers being loaded onto the trains." (Working age couple)
"The reconstructed coach exhibition actually taught me a great deal,  a better understanding especially how difficult it must have been at that time, to firstly decide who should be chosen to go in the trains, i.e. a doctors decision who would survive the journey and live and who would not and how the soldiers would then be expected to go back to the front, once they were fit. Found it very emotional." (Retired female participant).
"I found it very thought provoking – especially using the words of men who had travelled in the trains." (Core Six Streets history team researcher & partner)
"I am very pleased I went on this trip because I learnt much about the reality of the First World War, which I would not otherwise have done. It brought the numbing numbers of casualties alive, in a very memorable way." (Core Six Streets history team member)