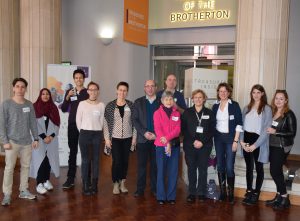 As part of the Centre for Hidden Histories sponsored 'In the Wrong Place, At the Wrong Time' project, the University of Leeds hosted ten pupils and two teachers from the Carl-Friedrich-von-Siemens-Gymnasium, a secondary school in Spandau, Berlin (27 February – 3 March 2017).  Alongside the school pupils and teachers, Dr Claudia Sternberg (University of Leeds) was joined by Dr Eva Göbel (Humboldt University), Tom Greulich of Spandau City Council as well as two members of the Youth History Workshop Spandau.
The German exchange group explored the history of World War One era internment of German and Austrian civilians and officers at Wakefield's Lofthouse Park Camp and the internment of British civilians at the Ruhleben Camp in Spandau. They also visited Bradford's 'Little Germany' where many Germans had settled in the 19th century.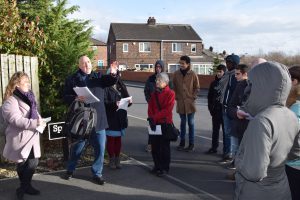 Scheduled activities included meeting descendants, community-based researchers, local residents as well as young people from the Leeds-based Preservative Party and the university. Professor Matthew Stibbe, himself a descendant, spoke about the Ruhleben Camp and the rich resources held at the University of Leeds's Liddle Collection (a treasure trove of First World War personal papers). David Stowe led a guided walk around the former site of Lofthouse Park Camp. Professor Panikos Panayi (Leicester De Montfort University) joined the group in Wakefield and later presented 'The Global War against the German 'Enemy Alien': Internment in the British Empire, 1914-1920' as part of the Legacies of War seminar series at Leeds University.
This Centre for Hidden Histories international collaboration is set to continue further into 2017-2018.  It is planned that a First World War exhibition at Spandau City Museum will contain Ruhleben material from the Liddle Collection.  This exhibition will be co-curated by the 'In the Wrong Place, At the Wrong Time' team and Spandau's Youth History Workshop. The exhibition is scheduled to open in Spring 2018.