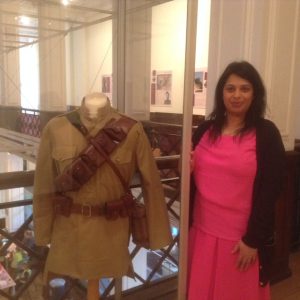 In December 2016, I was fortunate to be able to interview Kiran Sahota, Director of the Community Interest Company, Believe in Me about her role in creating the 'Honoring Indian VC Soldiers in World War One' exhibition which was displayed at Birmingham Museum and Art Gallery (12 November 2016 – 28 January 2017). Working with advice from Mike Noble, Community Liaison Officer at the Centre for Hidden Histories and Dr Nicola Gauld from the AHRC First World War Engagement Centre, Voices of War and Peace, Kiran created a display which in the words of the exhibition catalogue sought to increase, "public awareness of South Asian soldiers of the British Indian Army who won the Victoria Cross in World War One." Sponsored by the Heritage Lottery Fund, collaborative partners working with Kiran included the National Army Museum, the Imperial War Museum, the British National Library, Brighton Pavilion Museum and the Commonwealth War Graves Commission.  Enthusing about the experience, Kiran commented,  "I've never felt more empowered, I've never felt more inspired. And now I really get the gist of all the hard work that goes on behind an exhibition. The reception, the reviews…I was so overwhelmed."
Energetic and upbeat, Kiran is a committed community activist, who received a nomination to act as an Olympic torch bearer in 2012 in recognition of her charity work. Her company Believe in Me structures sessions for various organisations on issues as diverse as mental health and domestic violence.  She also acts as a working carer to her disabled grandfather. Tying into her current community activism, the 'Honoring Indian VC Soldiers in World War One' exhibition held particular personal resonance for Kiran who grew up in Handsworth but whose family are originally from India.  During our interview she "can't stop raving about the support" offered by Mike Noble and Nicola Gauld.  Kiran strongly encourages others to get involved in First World War Engagement Centre projects because, "It gave me a platform to go from the normal business world to the world of academics and I wish that more people will take that next step."  She describes the Centre for Hidden Histories conference, 'Beyond the Western Front' (July 2016) as significant in this process because the engagement with historians and academics at this event, "…really helped to secure this project and give it credibility…the question and answer sessions really prepared me for when we are doing [exhibition] tours."  The exhibition itself has received visits from Birmingham's Lord Mayor and has featured on a BBC Asian Network programme.  It has stimulated community dialogues and "…brought people together", cutting through tensions which sometimes exist between UK based Indian and Pakistani communities.  Working on the exhibition has also added a new dimension to Kiran's business, "…because if people think that we are just about empowerment, we are also about an educational programme."  
The Centre for Hidden Histories Twitter feed urged its followers to visit the Indian VC's exhibition in December and January.  However, if you missed out, you can still find out about the individual lives of the eleven soldiers featured in Kiran's display by clicking on this link to access the Honouring Indian VC Soldiers in World War One Exhibition Catalogue.  Here's what some of the visitor's to Birmingham Museum and Art Gallery said about the exhibition:
"Inspirational and exceptional.  A fantastic opportunity to learn about the immense contribution of British India." (Anonymous respondent)
"Excellent display. Proud to be a British Sikh with such a strong British connection.  The more we share, the more we have…Let's share our rich background." (Anonymous respondent)
"Kiran Sahota is a wonderful woman. Inspirational exhibition!"   (Lord Mayor, Birmingham City Council)
The Centre for Hidden Histories and the AHRC First World War Engagement Centres look forward to continuing their collaborations with Kiran on new projects in the future.