Dr Mark Jackson (Newcastle University), Research Associate Niveen Kassem and creative writing cultural organisation, Identity on Tyne, have been funded to uncover hidden histories within the Gertrude Bell Archive about Middle Eastern ethnic minorities during WWI.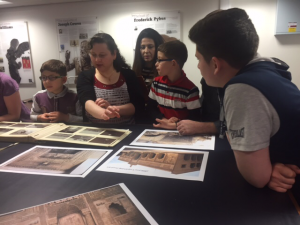 The First World War and its aftermath saw the establishment of new nation states after the fall of the Ottoman Empire but this period also resulted in massacres, forced relocation and mass-movements of minorities. A century on, many parts of the region are still a war-zone and minority communities continue to suffer.
Using the Gertrude Bell Archive located at Newcastle University, the Beyond Destruction project engaged members of the minority Iraqi, Christian Assyrian communities from Northern England in their history in Iraq before and after WWI and since in the UK.  Fostering inter-generational dialogue in relation to this history, the project encouraged community discussion of destroyed heritage sites in the Middle East, the importance of the preservation of languages such as Aramaic and Syriac as well as the uncovering of documents in the archive written by Gertrude Bell's neighbor, Cyril Porter.  Porter was a British Army engineer who was stationed in Iraq between 1914-1918.  He frequently wrote back to his family in Carlisle.  In one of these letters, Porter powerfully described hearing about what would become known as the Armenian genocide from witnesses who managed to survive.  You can access this letter by clicking this link. 
Reflecting on the significance of Centre for Hidden Histories funding for this project, the Beyond Destruction team commented:
"The funding you have provided has been very important to our work with the Middle Eastern communities for whom WWI had radical consequences. We have been able to engage communities from Iraq with Gertrude Bell archives and explore their responses and reading to these histories and how these histories resonate today. We have run successful workshops that provided the communities with the space to explore their voices, memories and identity in the shadow of the past. Our next plan is to reach out for more Middle Eastern communities living in Europe and beyond by developing sample size social media and the internet."
This blog was co-written by the Beyond Destruction team and Larissa Allwork