Professor Nigel Hunt and Dr Larissa Allwork at the Centre for Hidden Histories are currently investigating community engagement with traumatic histories of the First World War such as shell shock. For Nigel, 'trauma' is defined as, "the way a person may respond to an environmental event that is life-threatening, either to oneself or to others. It may involve deaths and serious injury, but the key point is that by using the term 'trauma' we are referring to a sense of the mind being broken." As part of their project, Larissa has surveyed activities commissioned as part of the centenary, including exhibitions, community projects, plays, artworks and films which have addressed this important theme. These projects have created a range of resources that may be useful to assist or inspire community researchers in this area. Listed below are some of the most engaging examples that have been discovered.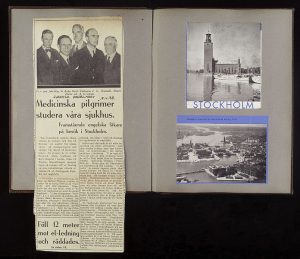 Basketry as a Therapeutic Activity. This film was commissioned as part of the Basketry: Then and Now project run by the First World War Engagement Centre, Everyday Lives in War. 'Basketry as Therapy' explores the role of basket-making as a form of rehabilitation for shell shocked soldiers. This form of therapy was pioneered by Sir Arthur Hurst at Seale-Hayne Military Hospital.
The BBC and the British Council: Britain and the Psychology of War. Listen back to this round-table discussion held at the Imperial War Museum, London (4 August 2014) on trauma and the First World War. It was convened by Professor Amanda Vickery (Queen Mary, University of London) and featured First World War historians Dr Dan Todman (Queen Mary, University of London) and Professor Michael Roper (The University of Essex) as well as Director of the Birkbeck Trauma Project, Professor Joanna Bourke (Birkbeck, University of London).
The First World War at the National Hospital. Find out more about the treatment of shell shock at the National Hospital in London with this online version of an exhibition held at Queen Square Archives and Museum in autumn 2014.
14-18 Now – WWI Centenary Commissions. As part of their arts commissions, 14-18 Now have supported a number of projects that have explored issues related to trauma and shell shock. These include works which have addressed cowardice, desertion and the death penalty (The National Theatre of Scotland's play, 'The 306: Dawn' and Chloe Dewe Matthews photography project, 'Shot at Dawn') and commissions which seek to represent the experience of trauma articulated in letters home by Indian army personnel (RAQS Media Collective, 'Not Yet at Ease').
'Not Yet at Ease' will be on display at First Site Colchester between 28 September 2018 and 20 January 2019.
Nurse Mellors Autograph Books App. This free app was created as part of National Museums Scotland's 'Next of Kin' touring project. The app allows you to view 86 pages of Nurse Mellor's three autograph books which she kept during her time at Craiglockhart and Fife hospitals in the First World War. They include pictures, messages and verse by patients in her care.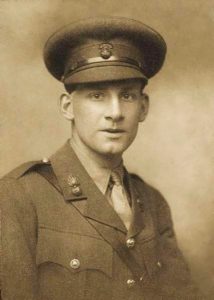 Meeting in 'No Man's Land'. A collaboration between UK charity Age Exchange, Caritas in Rosenheim, Germany, the Heritage Lottery Fund, Everyday Lives in War and Professor Michael Roper. 'Meeting in No Man's Land' brought together British and German descendants to discuss their family histories of war and the impact of this traumatic event across generations.
Shropshire Remembers. Wilfred Owen was born in Oswestry, Shropshire and as part of the centenary the town and county are commemorating his life with various projects and events. For specific information on events to be held between August and November 2018, including a statue unveiling on 20 November, see Wilfred Owen festival in Oswestry.
Siegfried Sassoon's War Diaries. In 2014, Cambridge University's Digital Library made Siegfried Sassoon's war journals freely accessible online. If you are interested in Sassoon, this is a fantastic resource.
'Wounded: Conflict, Casualties and Care', The Science Museum. See a short video and photographs of objects from the 'Wounded' exhibition which was held at the Science Museum (26 June 2016 – 3 June 2018). Drawing parallels with the experience of Post-traumatic stress disorder (PTSD) by veterans in the present, 'Wounded' featured a display by six Afghanistan veterans. To find out more, see this blog post by Combat Stress CEO, Sue Freeth.