Michael takes a look at a creative approach to remembrance…
This week I had the great pleasure to listen to a presentation given by Kate Pullinger of Bath Spa University. Kate, along with her colleague Neil Bartlett, spent much of this year working on the Letter to an Unknown Soldier project, which is a digital memorial scheme that invited people of 2014 to engage with someone from a century ago.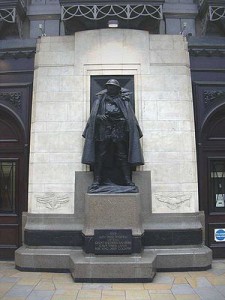 The project, which is supported by 1418 NOW, is based on Charles Jagger's memorial statue, which is situated on platform 1 of Paddington Station and was unveiled by Viscount Churchill on Armistice Day 1922. The statue, which portrays the soldier in full battle gear, was designed to show him reading a letter from home. Pullinger and Bartlett's idea was to invite people to imagine what they would write if they had sent that letter. What would they say?
They put out a call for people to send them their letters so that they could publish them on a dedicated website. The submission period was open from 28th June, the centenary of the assassination of Archduke Franz Ferdinand to 4th August, a hundred years on from Prime Minister Asquith's announcement that Britain had joined the war.
They received an astonishing response. Over 21,000 letters were submitted by people from all walks of life and from all over the world. Every single letter was read and published.
Although the project is a digital one, many people chose to write them by hand and post them in the traditional way, even if they had initially composed it on a computer. There is, Kate suggests, something in the act of putting pen to paper and physically posting it that makes people feel a closer connection to the recipient. Handwritten letters were scanned and are available to view online with every pen mark intact. A selection of the letters were later gathered for publication in a book that was released in November in time for Remembrance Sunday.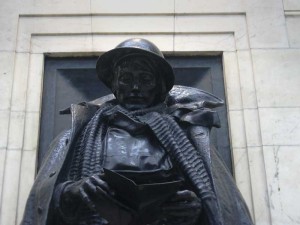 It's a fascinating project that succeeds by prompting people to think about the effects and experience of war in a personal way. It can be difficult to know what to write to someone you have never met, and never will, and to do so across such a gap of time. As the thousands of writers can no doubt attest, it is worth the effort.