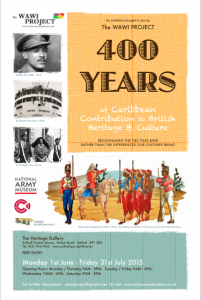 "Nothing beats stronger than the heart of a volunteer"
The Why Are West Indians (WAWI) Project has announced the launch of their 400 Years exhibition in Solihull.
The exhibition, which runs from the 1st June to the 31st July, aims to provide an insight into why thousands of volunteers from the British-speaking West Indies answered Britain's call in defence of her Empire.
Their timeline covers: The Napoleonic Wars, the First World War and World War Two, Women at War and the Home Front, concluding with the Poppy and its relevance to all communities.
Venue details:
Solihull Central Library,
Homer Road,
Solihull,
B91 3RG (Near Touchwood Shopping Centre)
The exhibition is free to enter. Opening times are:
Monday & Thursday 9AM – 3PM
Tuesday & Friday 9AM – 6PM
Wednesday 10AM – 6PM
Saturday 9AM – 5PM
Sunday CLOSED