A Nottinghamshire artist has found a unique way of remembering those who served, and those who continu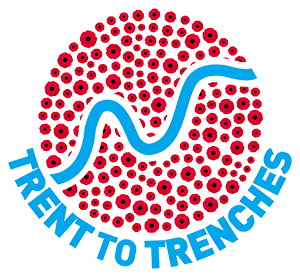 e to do so. Michael Noble takes a look.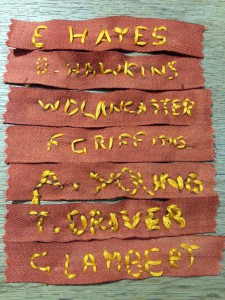 Joy Pitts is a multiple award-winning contemporary artist based in Nottinghamshire. She works primarily with garments, which she sees as expressive of our individual identity and way of life. Her work assembles these individual identities into a shared whole that represents the collection of individualities that we call society.
This concept has a natural mirror in the idea of war memorials that place individual names in a shared space. One of Joy's current projects reflects this by seeking to gather individually-sewn names of servicemen and women and present them as a single art work on canvas that will depict a pair of military boots. The Military Boots project is a collaborative effort being undertaken as part of Nottinghamshire's Trent to Trenches programme.
Joy would like to invite  you to contribute to this project by stitching the name of those in your family past or present who have served or are serving in the Armed Forces onto a strip of cotton tape for her to add to the art work. She will provide the materials, you just need to provide the names and a little bit of your time.
Joy says 'during World War One it was common for both men and women to sew; repairing clothing at home and in the trenches, embroidering messages to send to loved ones and sewing bandages. This project recalls these activities and invites you to make your own hand made acknowledgement to those who serve.'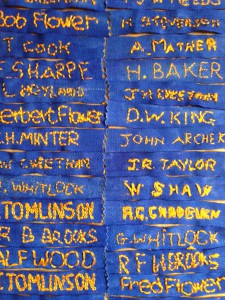 If you are interested in taking part, you can contact Joy directly here to request a stitch pack.