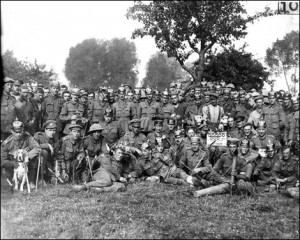 Now this looks like an interesting project. The Nottingham Radical History Group have used their long-standing experience of investigating and remembering radical moments from history to examine the cases of the 103 Sherwood Foresters who were sentenced to death or sentenced on mutiny charges during the First World War.
The project was deliberately chosen because of the high profile nature of the centenary. The group's researchers soon realised the scale of their task and that their investigations would require them to familiarise themselves with the often arcane legal and organisational landscape of the military.
They have documented their approach in a brilliantly detailed initial pamphlet, which covers their work and the pattern of their investigations. It's a fascinating example of the historical process and is written in an engaging and, at times, necessarily angry manner with footnotes that are as lively as they are informative.
The second in the series of pamphlets is also available. This begins the case study approach that the group has selected and focuses on the story of Private W. Harvey, who was sentenced to death for desertion in February 2015 (a sentence later commuted to two years' hard labour).
As with the best works of history, this core story expands to examine the situation and context that surrounds it. Consequently, the pamphlet includes material on the lives that the soldiers left behind when they went to war and the experiences that the regiment offered once they had done so.
More information, and copies of both pamphlets, can be found on the People's Histreh site