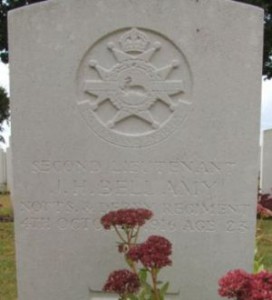 Anyone who has visited the war graves will have felt a sense of awe at their sheer number. Making headstones in that volume took a lot of effort and a lot of stone. Nigel Hunt explains the East Midlands origins of the headstones.

With over a million deaths across the UK and the Dominions, and with nearly all the dead being buried on the battlefield, there was a huge demand for high quality headstones at the end of the war, along with stone for the monuments that are dotted around the battlefields, such as the Lutjens' Thiepval memorial and Blomfield's Menin Gate memorial, which together commemorate over 100,000 of the missing of the Somme and Ypres respectively. In total, nearly 1.3 million names are engraved either on individual headstones or on memorials to those who have no known grave.
By 1921, over 1,000 cemeteries had been established, and 4,000 headstones were shipped to France every week. Most cemetery construction was complete by 1927.
Most people think that the headstones are all made of Portland stone, derived from Portland on the south coast. Indeed, most headstones did come from there, but the demand was so high other sources had to be found, and the other main source of headstones was in Derbyshire, from Hopton Wood quarry near Middleton-by-Wirksworth. In all, 120,000 headstones were made from Hopton Wood limestone.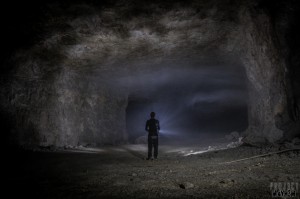 The name Hopton Wood quarry is a bit misleading. While the original Hopton Wood quarry was situated in Hopton Wood, near the village of Hopton, the main quarry is to the west of Middleton, linked to another quarry in Middleton itself. The quarry closed in 2006, but it had a long history. It is a source of extremely high quality limestone, examples of which can be found in many country houses and public buildings around the country. Examples include Westminster Abbey, Birmingham Cathedral, Chatsworth House, Oscar Wilde's tomb and the Houses of Parliament. It has been on many occasions mistaken for marble, because it can be finely polished. It is also relatively easy to carve, and is relatively hard-wearing. The main quarry is underground. There are over 25 miles of large passageways underneath the moors to the west of Middleton. The entrance can be seen from a nearby footpath.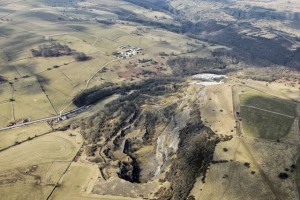 There are remnants of broken headstones in the walls in the area, particularly near to the Middleton quarry in the village, but there are few other traces of what was a very busy time for the quarry.