Our colleagues at Voices of War and Peace have been working with The National Archives to plan the following events that many of you will find of great interest. Both sessions will take place at Library of Birmingham.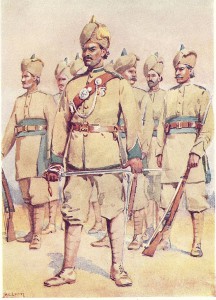 One hundred years ago, undivided India provided Britain with a massive volunteer army in its hour of need. From 1914-1918 close to 1.5 million Indians served, fighting in all the major theatres of war from Flanders Fields in Belgium to the Mesopotamian oil fields of present day Iraq. One in six of the service personnel under British command was from the Indian subcontinent. Because of this there are many connections to be made between Britain's South Asian communities and this landmark conflict.
Talk: Indian soldiers, the British Army and the First World War
Wednesday 15 April 2015, 12.00-13.00, Heritage Learning Space, Floor 4
William Spencer – Principal Military Specialist, The National Archives
Jahan Mahmood – Independent military historian.
What was the contribution of Indian soldiers to the British Army in the First World War?
Further information:  nationalarchives.gov.uk/Birmingham-fww
Booking: https://www.eventbrite.co.uk/e/one-in-six-the-indian-subcontinent-and-the-first-world-war-tickets-16016214930
Drop-in session: your heritage, your history with The National Archives
Wednesday 15 April 2015, 13.00-16.00, Book Rotunda
Do you have family stories about India and the First World War that you would like to share? Would you like to find out how to research your own family or community's First World War stories? This informal drop in session is designed to offer something for everyone who has an interest in the First World War from a South Asian perspective. Bring your photographs, medals, documents or just your questions to us so we can all help tell the story of this amazing contribution. Come along and meet the team from The National Archives and Asian community groups who can help you to explore your First World War heritage.
Booking: No need to book, just turn up