The Living Memory project is offering funding and resources to community groups across the UK to enable them to discover war graves in their local community, explore the sites and remember those buried there.
The Living Memory project remembers the forgotten front – the 300,000 war graves or commemorations right here in the UK.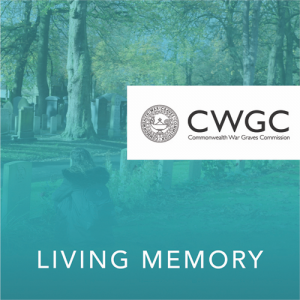 On the centenary of the Battle of the Somme the Commonwealth War Graves Commission (CWGC), in partnership with Big Ideas Company, is asking the public in the British Isles to re-connect with the war dead buried in their own communities.
This project is looking at the full 141 days of the battle of the Somme July 1 to November 18. We are looking to have 141 different community engagement events, reflecting the full length of that battle and centred on at least 141 different CWGC sites.
In total, CWGC has graves located in 13,000 locations, 200 of which are major sites and almost all in big city cemeteries and linked to the hospitals. The majority of men and women buried or commemorated either died in a British hospital of injuries sustained during the war or (in 1918-19) died in the influenza epidemic.  They must not be forgotten.
CWGC have produced resources to help community groups identify a CWGC site near them, do some research about some of those buried in that site and stage a commemorative event – in their own way and reflecting their own interests – to remember those who lost their lives in the 141 days of the Somme.
To enable community groups to take part, funding, resources and support will be available. Visit www.cwgclivingmemory.org or email  livingmemory@cwgc.org