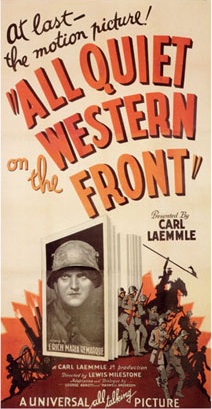 On 3rd October 2016, Broadway Cinema, Nottingham in partnership with the Centre for Hidden Histories organised a free public screening of Lewis Milestone's Oscar winning classic, All Quiet on the Western Front (1930).  Adapted from the novel by German First World War veteran Erich Maria Remarque, the film's anti-war message and scenes of violence were controversial in the 1930s, leading the movie to be banned in Austria, Yugoslavia, Italy, Bulgaria and New Zealand. The film's pacifist message also led to its condemnation by the Nazis and prohibition from cinemas in the Third Reich, while the movie's association of French women with moral licentiousness led to its removal from French cinemas.
The screening at Broadway to thirty members of the public was accompanied by a question and answer session afterwards with University of Nottingham academics, Professor John Beckett, Professor Mike Heffernan and Professor Nigel Hunt. Topics discussed included the representation of soldiers in the film in relation to trauma, conceptions of masculinity and the experiences of soldiers fighting in conflicts since 1918.  There was also discussion of the historical strengths and limitations of the film, as well as the role that films such as 'All Quiet on the Western Front' have played in constructing contemporary public understandings of the First World War.
Audience responses included:
"The film and especially the Q&A afterwards were very informative and thought provoking.  It has certainly given me a more rounded and comprehensive take on the war and its impact on everyone around at the time." (Chris Henderson, Age 39)
"It was a very important film that should be shown again. The Q&A session afterwards was most interesting and brought out some of the issues in the film which I might have otherwise missed." (Martin Foulds, Age 63)
"Very interesting and informative. Particularly the range of expertise of the speakers." (Anonymous respondent).