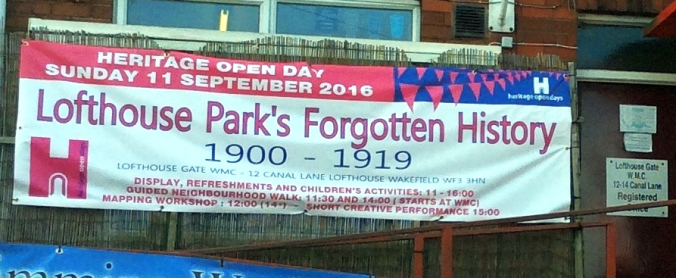 On Sunday 11th September 2016, members of the public were invited to attend a Heritage Open Day event organised by the 'In the Wrong Place, Wrong Time' Centre for Hidden Histories project at the now vanished site of Lofthouse Park Camp, Yorkshire.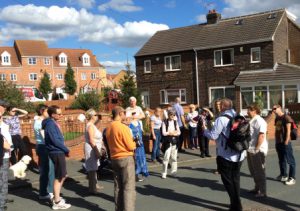 After convening at Lofthouse Gate Working Men's Club, members of the public explored the largely forgotten history of Lofthouse Park. Initially an amusement park located on the tram line between Leeds and Wakefield, it was converted into an internment and prisoner-of-war camp for over 1,500 German and Austrian civilians and officers during the First World War.  The day was organised by Dr Claudia Sternberg (University of Leeds), featured a guided tour by local historian, David Stowe, a display of documents and a short creative presentation by Heritage Corner's Joe Williams and Leah Francis.  This performance embedded the history of Lofthouse Park Camp in the wider context of World War One civilian internment, making the connection with Ruhleben Camp in Germany where British civilians were held at the same time.  This theme links to other Centre for Hidden Histories projects including the play 'Hidden Strangers' and projects on the Knockaloe and Handforth internment camps.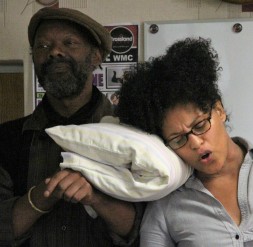 As part of the Heritage Open Day people from Lofthouse and Outwood brought in artefacts and shared information about their local area. Residents also expressed an interest in taking the project forward with a follow on Heritage Lottery funding bid. Demonstrating the international reach of this event, readers can access a German-language blog post about the day.  This post was written by Dr Eva Göbel, one of the Berlin partners of the 'In the Wrong Place, Wrong Time' project, who also attended September's event.
Participants were asked for their feedback on the day.  Highlights of this feedback capture the importance of this event in facilitating local community cohesion and sharing local and research-based knowledge about an all too often 'hidden' aspect of First World War history: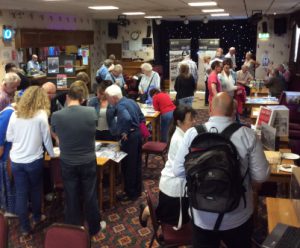 "Both the walk and the talk were very enjoyable. Good to see our local community together. A very enjoyable day and very informative."  
 "Instructive walk around the site of Lofthouse Park internment camp. Helpful and informative facilitators. The sheer joy expressed by local people reminiscing about the history of their area. I learnt much more about internment in both UK and Germany." 
"All very good local people made the event. Organiser fantastic. Thanks."