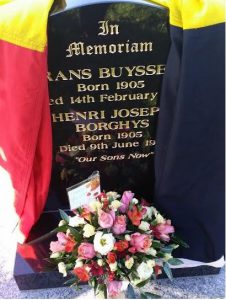 On 28th November 2016, the Centre for Hidden Histories was very pleased to support the blessing of a headstone dedicated to the memory of two First World War Belgian refugees, Frans Buyssens and Henri Burghys. Dr Hannah Ewence (University of Chester) has been leading a Centre for Hidden Histories community research project on Belgian refugees who came to Cheshire during the 1914-1918 conflict. Approximately, 250,000 Belgians came to Britain during the First World War, of which approximately 250 resided in Cheshire.
November's ceremony was the result of research conducted by community historian Alan Lowe (Northwich and District Heritage Society). Lowe discovered that Buyssens and Burghys were the only two deaths in Mid Cheshire. Buyssens, died of Peritonitis aged around ten in February 1915 and Henri Joseph Burghys, also aged around ten, died following surgery at the Victoria infirmary (June 1915).  Local chemical industrialist and political liberal, Sir John Brunner paid for the boys funerals in 1915. However, until November of this year, their graves have gone unmarked. Following an approach by Lowe, Tata Chemicals Europe who brought the Brunner Mond Company in 2005, kindly agreed to honour Sir John Brunner's legacy by paying for the headstone.
Richard Redman, Communications Manager at Tata Chemicals, who represented the company commented: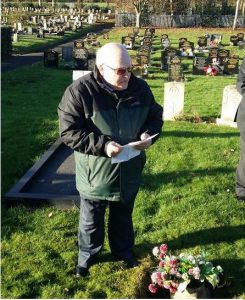 "We are proud to have been a part of this project, and would like to commend Alan Lowe on his tireless research, hard work and dedication to ensuring that these two boys will be remembered for many, many years to come…It seemed only right for us to get involved, and to continue the legacy of our founder, Sir John Brunner more than a century on. Hopefully, this headstone and the interest that it is generating, will lead us to discovering long lost descendants of the boys." 
The ceremony was also attended by Dr Tim Grady (University of Chester), the town mayor, Kevin Rimmer, reporters for the Northwich Guardian and Honorary Consul for Belgium, John Meeus (click here to read the Consul's speech). In the future, there is the possibility that Lowe might be given access by Tata Chemicals to conduct further research in the old Brunner Mond archives. Reflecting on his achievement, Lowe commented, "I love doing research and whatever happens in the future I will always know that my commitment to research brought at least one happy ending."
Click on the link to read Alan Lowe's research on Belgium refugees during the First World War.
Click on the link to access the Order of Service.