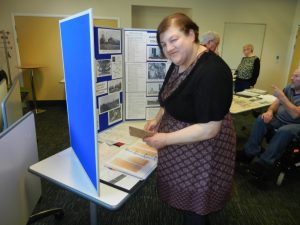 On Sunday 8th April, Dr David Amos hosted the finale of his Harworth Colliery in World War One project at Worksop Library.  Funded by the Centre for Hidden Histories and produced in association with Nottingham Trent University and David's not-for-profit community interest organisation, Mine2Minds Education, the project explored the 'hidden history' of the controversial development of Harworth Colliery in Nottinghamshire during the First World War.
The controversy focused on the involvement of German industrialists in a strategically important British industry (coalmining); later it was to centre on the character of Arnold Lupton, an academic, Liberal politician and mining engineer who founded the Anglo-German North Union Mining Co Ltd, which initially started developing Harworth Colliery in 1913.   Along with his pacifist views Lupton was jailed during the war for his protests against the Government for its actions over Harworth (he chained himself to the railings in Downing Street). During the First World War, German workers from Harworth colliery were interned and the Company's property and assets eventually impounded under the Trading with the Enemy Act of 1916.
David has been leading a team of community researchers to look into this difficult, yet fascinating and important history.  The team conducted research in the Library at the National Coalmining Museum for England as well as at Kings Meadow Archives (The University of Nottingham) and at Bircotes, Worksop and Mansfield Libraries. The results of the team's work were on display at Worksop Library on 8th April.
Comments by attendees at the launch included:
"Fascinating – a story I had not come across…Great presentation – excellent booklet – ideal location." (Rob Armstrong, Retired)
"I learnt for the first time, how the war affected German companies and their employees…I used new research resources I did not previously know such as the National Mining Museum and Nottingham University Archives." (Jim Dymond – Harworth Colliery Researcher)
"Love it!" (Pauline Codd – Harworth Colliery Researcher)