Registration is now open for the First World War Discovery Day on Monday 4th September 2017 10am-4:30pm at the City Rooms, Leicester. Please click here to secure your free place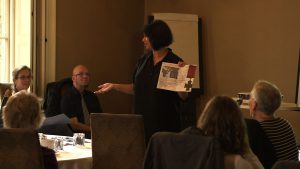 The Centre for Hidden Histories, in partnership with the Heritage Lottery Fund (HLF) will be hosting a free event to explore the possibilities in researching and commemorating the First World War.
The event is aimed at any community groups who have, or wish to develop, an idea for a First World War project.
Groups who have successfully completed HLF-funded projects will talk about their experiences of developing and running them, and expert advice will be on hand from the WW1 engagement centre teams to assist participants in developing their projects.
Advisers from the HLF will talk through some of the practical aspects of applying, and there will be a forum for individuals and groups to discuss their ideas.
In addition, Dr Nigel Hunt from the University of Nottingham, will give a talk on how we might understand the First World War through the lens of traumatic stress:
Psychology in history: The difficulties of data interpretation.
Psychology has developed a language which has become part of everyday speech. Stress and trauma are terms that have been with us for most of this time, and we are able to examine documents (books, journals, diaries), certainly from WWI on, where people have discussed experiences in these terms. The problem is trying to understand people's psychological reactions in earlier historical periods. This talk will focus on examples from various points in history, examining how we might interpret the language of the past in terms of the language of today, with the focus on stress and trauma in battle.
For more information, please email michael.noble@nottingham.ac.uk