Modern tools can help to illuminate the impact of the war to twenty-first century eyes. Michael Noble is impressed by the latest effort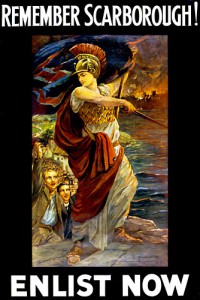 Here's a rather beautiful thing. Housing website Rightmove have created 'Then & Now – An interactive journey around World War 1 Britain'



Blending archive photos with images fro m Google Street View, the site lets users merge the past with the present and examine how our streets have evolved from the days of the Great War.
Users simply use their mouse to "swipe" across the chosen Street View and reveal an insight into the past, as provided by the Imperial War Museum and other image resources. Clicking on the information icon reveals more about where and when the photo was taken.
In total, 13 photos from the duration of the conflict are used to help tell the story of the First World War on the home front.
Images include a house on Lonsdale Road in Scarborough, severely damaged by German naval shelling in December 1914 and a line of recruits outside Deptford town hall, who fade in and out of historu with a simple swipe of your mouse.
There's a real sense of the uncanny in the images, they seem to make the war years at once distant and familiar. It's also interesting to note how effective the repair work was on the shelled buildings. A 21st century pedestrian walking along these streets could be forgiven for his ignorance of the damgage that had been wrought in days gone by.
Then & Now can be found on the Rightmove website. It's well worth a visit.