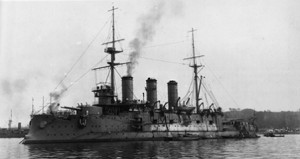 Studies of World War One is a vast and still expanding area of world history. However in terms of general surveys and indeed military especially naval studies Japan's contribution has not been fairly and positively acknowledged. Japan is given minimal attention in various historical WW1 and Naval Survey Histories surveys and in recent TV and journalistic coverage programmes on WW1. Evaluations tend to range between Japan as a 'hyena state' feeding off the spoils of war at worst or an ally driven mainly by self-interest and opportunism. Recent major books focusing on Japan such as Dickenson's excellent War and National Reinvention: Japan in the Great War, which focuses more on the China dimension of the war, and Frattolillo and Best's new Japan and the Great War which looks at the impact of WW1 on Japan itself are very important studies using multi-archival sources. While they do add considerably to the corpus of excellent existing diplomatic studies of the conflict they do not address the need to provide a more balanced evaluation of Japan's contribution globally to the war and especially the existing overly narrow focusing on the capture of Shandong or the capture of the German Micronesian islands with passing references to Japanese naval activity in the Mediterranean in 1917-18 as too little too late.
Ian Gow OBE is Director of the Confucius Institute at the University of Glasgow. He was previously Inaugural Principal of the Sino-British College USST Shanghai (2009-2014). From 2003-2007 he was Founding Provost and CEO of the multi-award winning University of Nottingham, Ningbo, China, China's first independent foreign university campus. He was Dean of the Nottingham University Business School from 1998 to 2003. He is a former Deputy Principal, University of Stirling and Pro Vice-Chancellor, University of Sheffield and was Head of Management Studies at both these institutions concurrently with Director of the Scottish Centre for Japanese Studies (Stirling) and Chairman of the School of East Asian Studies (Sheffield). Professor Gow holds a PhD in Japanese Studies and has published in both Japanese and English on Japanese Business and Japanese Defence Policy. He has also has been a visiting professor at Tokyo and Saitama universities in Japan and a member of the UK –Japan 21st Century Group.
Monday 15 February 2016  6.45pm
The Swedenborg Society
20-21 Bloomsbury Way (Hall entrance on Barter St)
London WC1A 2TH
For a PDF map of the venue please click here
Free – booking recommended
Book online here
To reserve your place, please call the Japan Society office on 020 3075 1996 or email events@japansociety.org.uk or submit the online booking form.